"The Heart of Tantric Sex" makes it clear that when the breasts (and thus the heart) of a woman "are fully resonant, this snake [of kundalini energy] will implode, gracefully unwinding and giving way within." Which might result in what many people are looking for with coitus, i.e., the best sex ever.
Improved gender relations involve a return to true masculine-feminine polarity, not as dominant-submissive, but as attractive opposite forces that complement each other. "Falling into balance through this intrinsic polarity creates harmony, understanding, respect, and mutual appreciation."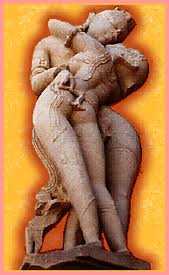 For those on the path who are in loving relationships, the art of sexual tantra (as opposed to deity practice) is the "union of sex and meditation . . . awareness transforms sex into love." While I'm not sure there is such a thing as easy sex magic, Richardson writes like a tantric dakini who wants us to share in the joys of sacred sex.
"Tantra roots the consciousness in the body and uses it as a constant reference point, enabling us to stay increasingly in the present moment . . . Indeed [since] the body is the only thing that exists in the present moment, learning to live through the body increases our chances of overall happiness."
Even though everyone presumably enjoys orgasm, if not multiple orgasms, obviously tantric love-making isn't for everyone. It requires that we take the time to be still and drop our agendas and allow our emotions, tears as well as laughter, to come to the surface. All of which can be very unsettling for the ego – and precisely why it can be good for spiritual practice.
As an expert in tantra techniques, Richardson is an unapologetic crusader for a return to "a sense of uncontrived aliveness in the body, which is as essential to the act of meditation as it is to making love."
She outlines a series of exercises, including tantric massage, to enhance this aliveness, from using our breathing as a bridge between mind/thinking and body/feeling, to deep, open-eyed gazing between partners to increase emotional connection, to communicating how we're feeling in the present moment, including during the act of sex.
"The more the mask of the personality is challenged and dissolved, the deeper the experience of Tantric union."
If we can question our sexual conditioning and reframe sex as a support for our spiritual practice, incorporating some of Richardson's tantric lovemaking ideas, we may be able to transform ordinary desire into a rare and delightful fuel on the path to awakening for the benefit of all sentient beings.